Arrive on Friday 23rd February 2024
We start our first class on Saturday 24th February 2024 at 9.30 am
Departure time: After breakfast on the morning of the 3rd March 2024
This 10-day intensive training retreat will teach you how to become a professional facilitator of Sound Baths and Gong Baths. You will obtain a diploma upon completing the retreat and running your case studies after returning home.​
This is a heart-centred retreat. As we gather, we use sound to heal ourselves and embrace our true nature.​​
This training is ideal for you if you want to acquire solid knowledge and practices where you will be at the centre of the activity, not the musical instruments, which are only there to accompany you.
This training is also perfect for you if you:
– are a therapist and want to introduce sound as part of your practice
– or are a musician interested in the power of sound
– or simply feel the call to have an additional source of income and do something you truly love and enjoy
No previous knowledge of music, sound therapy or healing is necessary.
Important: Places are limited to 12 spots so we highly recommend to sign-up and book your spot as soon as possible. 
We learn how to use specific musical instruments to create a healing space for ourselves and others. We use:
– Gongs to embrace our unity with everything
– Tibetan Singing Bowls to embrace our bodies and how they can function at their full potential
– Crystal Singin Bowls to alter our consciousness and to break through our mind's filters
– Koshi bells to bring our love vibration forward to remind us of our inner child
– Rainsticks to wash and cleanse our energy field
– Frame Drums to synchronise our rhythm with the earth​
This retreat will give you a solid holistic approach to sound group facilitation.  By gaining the knowledge of how all these musical instruments work together,  you can become an accomplished group Sound Therapy facilitator.
We will be surrounded by beautiful nature will be eating locally sourced beautiful organic food, so as our learning takes a whole different level.
You will also learn:
– how to adapt your energy to the groups you are holding space for
– the intricacies of psychological work behind running a sound bath and a gong bath.
-how to reassure your clients and make them feel safe, and at the same time run professional sessions that can truly make a difference in people's lives and yours
From a personal point of view, this training brings:
– an ideal learning environment in a quiet and eco-friendly space, where you can relax and breathe pure fresh air
– a transformative process allowing a clear acceleration of your healing process
– the satisfaction that comes from being useful to others
– spending a week with like-minded people
What's a typical day looks like:
– ​Breakfast at 8 am
– we start our days at 9.30 am
– we have 2 hours break
– lunch time at 12.30 pm
– we finish our training days around 6.30 pm
– dinner at 7 pm​
– relax and integrate the day
What happens after you finish the retreat:
– upon returning home, you have 6 months to finish your case studies
– you will be asked to fill in a form after each of your case studies sessions and discuss it with the teacher
– you will be handed a diploma that allows you to get an insurance and start running professional Sound and Gong Baths
Investment:
​What you pay to the tutor:
– the final date to sign up for this retreat is the 1st November 2023
– payment of a non-refundable deposit of £500 is required to book your place
– early-bird price before the 15th June 2023: £1200
– full price after the 16th June 2023: £1500
– pay by instalments option available​
– the full amount should be paid two months before the beginning of the retreat (01st December 2023), at the latest
What you pay, directly, to the retreat centre:
you need to directly contact and pay the retreat centre: around 85 €/a day all-inclusive, which means that if you arrive on the 23rd of February and depart on the 3rd of March 2024, you will need to pay them around 765€.
=> https://www.domainedutaille.com/formations-et-stages/recherche/
What is included in your investment above:
– single accommodation, three meals a day and 2 snacks
– ​all instruments and equipment necessary for the training are available for you to use (during the retreat)
– hand-outs and any digital material that is part of the training
– all teaching fees including support during your case studies after returning home
– your diploma after finishing your case studies
What is NOT included in your investment above:
​- airplane tickets, airport transfers and any other transportation​​
– any instruments that you need to source to complete your case studies
​​Arrival and departure times:
– arrive on Friday 23rd February 2024
– we start our first class on Saturday 24th February 2024 at 9.30 am
– departure time: After breakfast on the morning of the 3rd March 2024​
Other information
​- this is an english speaking retreat
– you do not need to bring any instruments with you to the retreat. You can, though, if you need any advice from the teacher.
– it is necessary to have a minimum of instruments to carry out the hours of practice after the retreat and to run your case studies: A minimum of 4 Tibetan singing bowls, two crystal singing bowls and a drum.
– if you decide to have a diploma stating that you are trained to run Gong Baths and Sound Baths, you will need to source the instruments mentioned above and a Gong and run 2 Sound Baths and 2 Gong Bath case studies.​
​​During the training, you will benefit from:
​- high quality teaching offering a lot of added value. Otto has accumulated a lot of experience in different settings (companies, SPAs, with children, adults, people with physical disabilities, people with mental disorders and a wide range of illnesses) and this in several countries .
– lessons allowing you to adapt to different audiences
– practical, simple and powerful tools
– personalized advice (depending on who you are and what your project is)
– a teacher attentive to your needs
– teaching that balances intuition and scientific input
– a playful environment
– digital documents to support your training
– advice on how to obtain effective equipment and instruments at the best value for money
– you will be supported throughout your case studies after returning home
Othman Haddad (a.k.a Otto)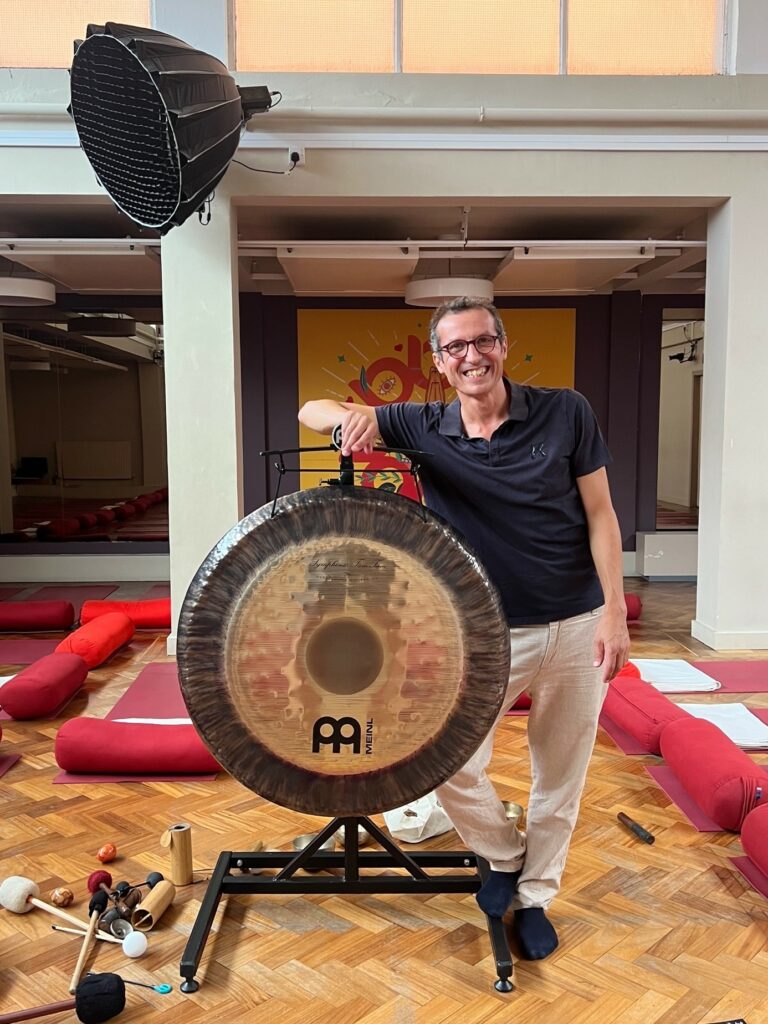 In addition to being structured and grounded, Otto lets his intuition and the needs of the students strongly drive the course.
His approach to sound therapy is the result of twenty-seven years of healing experience (recovering from severe back pain after a sports accident and healing from emotional trauma), 10 years as a full-time Sound Therapist (he run more than 1000 sound baths, gong baths, workshops and one-on-one sessions) and teaches Sound Therapy combined with a heart-centered approach since 2015.
Otto's work is featured, among others, in BBC TV, BBC radio and Vogue. Check out the media section of his website for TV appearances, interviews, articles and more about Otto.
More informations :
Othman Haddad
+447399184017
info@othmanhaddad.com
https://www.othmanhaddad.com/
For booking and additional information, please send an email or a WhatsApp message.